BI.ZONE at the Cyber Polygon session in Davos: more than 80% of companies worldwide are not ready for cyber crisis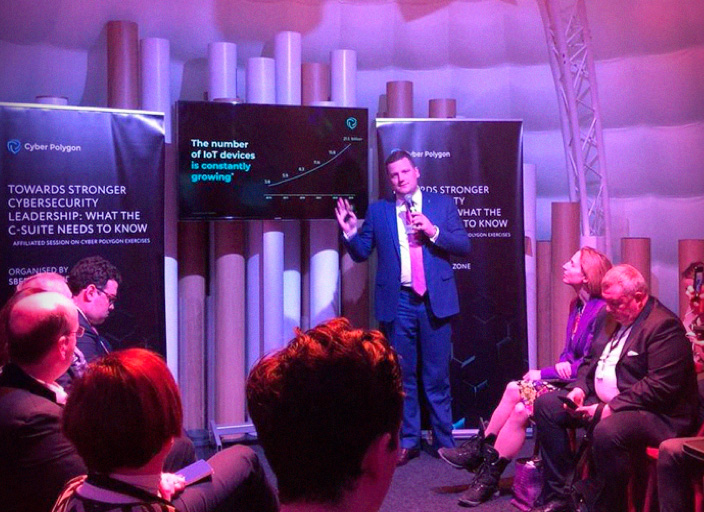 23 January 2020
World Economic Forum in Davos held the first session associated with the Cyber Polygon project — an annual international online exercise for tackling global cyberthreats. The exercise is an official initiative of the Forum and BI.ZONE, as well as the first collaborative initiative between WEF and a Russian company under the umbrella of the Centre for Cybersecurity.
The session was opened by the Forum's Managing director and Head of the Centre for Cybersecurity Alois Zwinggi, then the discussion continued with the participation of Sberbank Deputy Chairman Stanislav Kuznetsov, BI.ZONE CEO Dmitry Samartsev and Zurich Insurance Group CEO for Europe, the Middle East and Africa, and Bank Distribution Alison Martin. The speakers discussed the current situation with cybercrime in the world, examined various approaches and strategies for ensuring cybersecurity in organisations, and also talked about how companies should communicate with the media and maintain their reputation in the event of a major cyberattack. Finally, in the centre of the discussion was the question of cooperation between private companies and the public sector, which the participants called an essential condition for defeating cybercrime.
The exchange of best practices and the development of collaboration — these are the main goals of Cyber Polygon, which this year will be held on July 8, on the eve of the III International Cybersecurity Congress (ICC). The first exercise took place in June 2019, and was attended by Sberbank, New Development Bank (China), Transtelecom (one of the largest telecommunication companies in Kazakhstan), MTS (one of the largest telecommunication companies in Russia), as well as the Department of Information and Communications Technology of the Philippine Government. Spectators from 24 countries joined the online broadcast of Cyber Polygon. The results obtained during the exercise unambiguously prove the effectiveness of cooperation — during the training the participants exchanged data about the detected cyberthreats through the BI.ZONE ThreatVision platform, and this increased the speed of incident response by 7 times. More details are published in the report available on Cyber Polygon's official website.
"Capacity building is a key priority for the Forum's Centre for Cybersecurity. With technical and managerial capabilities lacking globally, it is essential to strengthen these capabilities to secure our digital future" said Alois Zwinggi, Managing Director and Head, Centre for Cybersecurity at the World Economic Forum. "The Cyber Polygon exercise developed by BI.ZONE is a fine example of the kind of training we seek to introduce and we look forward to further collaboration on capacity building with Sberbank, a Founding Partner of the Centre."
"Today, more than 4 billion people are connected to the Internet, and the number of IoT devices has already exceeded the Earth's population and will increase many times over in the foreseeable future. All this opens up new unprecedented opportunities for cybercriminals" said Dmitry Samartsev, CEO of BI.ZONE. "Cyber attacks now can result in more than just stolen money: when it comes to critical infrastructure, our environment and human lives may be at risk. The probability of a global cyber crisis is growing every day, but we see that over 80% of organisations worldwide are not ready for that. In order to prevent a catastrophe, it is necessary to invest in the protection of each individual company, increase the level of cyber literacy of the population and establish international cooperation. But, most importantly, to continue learning and developing our skills. That is the reasoning behind the Cyber Polygon exercise, which has already proven its effectiveness, and which is taking place on a truly global level thanks to the support from the World Economic Forum and INTERPOL. We see a great interest stirring up towards this initiative in Davos, and I hope that subsequent exercises will bring even more value to the international community."